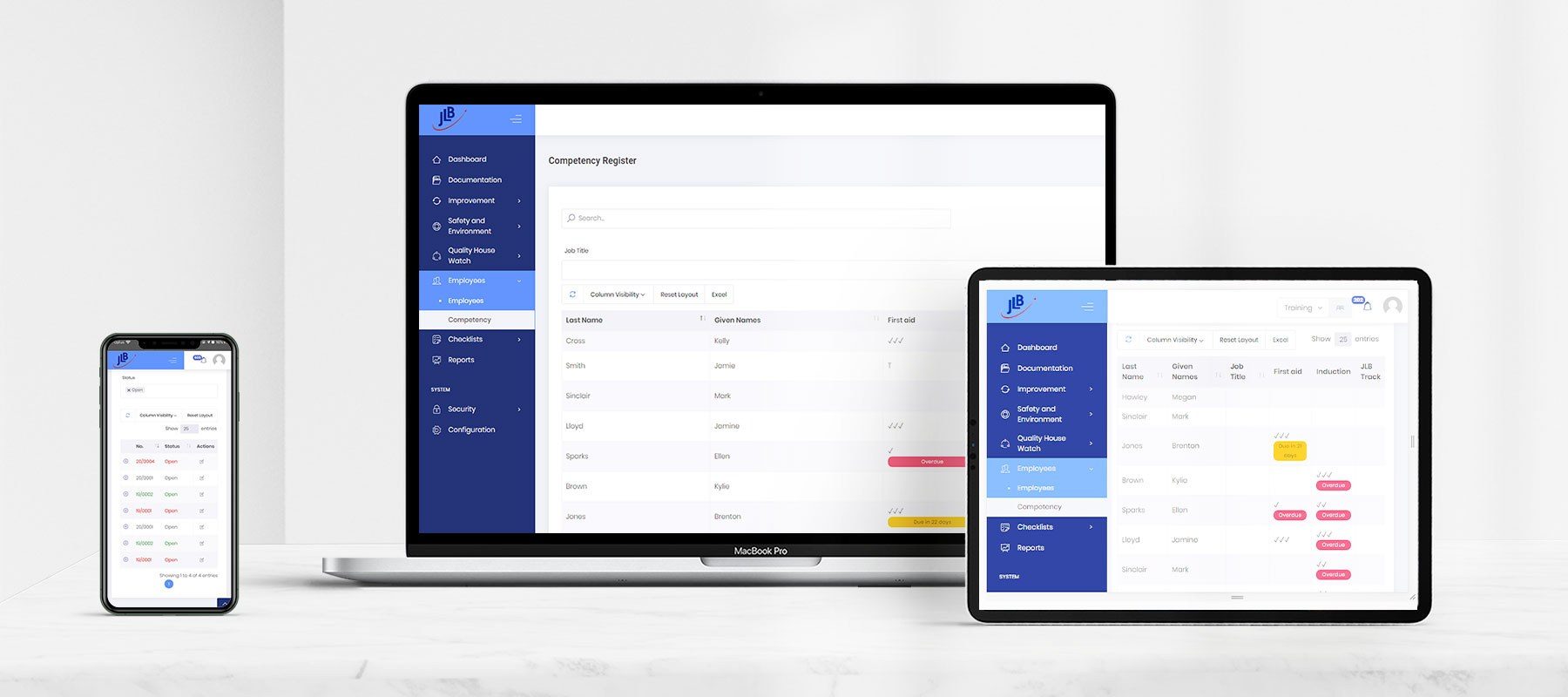 JLB Track - Management System Compliance Software

JLB Track deals specifically with consolidating and simplifying Quality (ISO 9001:2015), Safety (ISO 45001:2018), and Environmental (ISO 14001:2015) reporting requirements. With the end user in mind, the software is very easy to navigate and is considered a one-stop-shop for all your compliance requirements.
JLB Track has been developed by experienced consultants that have played a key part in shaping the Australian ISO compliance and certification industry, and is now in use by hundreds of businesses Australia wide.

Easy to use, monitoring across multiple platforms
Below are just some of the benefits you can experience when using JLB Track in your business.
Quality Management - Improvement Module
Track nonconformances (NCRs) and corrective action (CARs)
Reminder schedule for system maintenance tasks, meetings and assigned action
Dashboard style reports (ideal for management review)
In depth Document Control Register
Monitor objectives & targets (Business Improvement Plan)
Satisfy design requirements of ISO 9001
Assign owners, print, email, link documents, export data to Excel
External Provider Evaluation to conduct supplier/contractor assessments
Safety & Environmental Management - S & E Module
Develop an in-depth Environmental Aspects and Impacts Register in accordance with ISO 14001:2015
Real-time WHS accident/incident investigation and reporting
Record your Risk Assessments and register WHS hazards/risks in accordance with ISO 45001:2018
A dynamic equipment register to record calibration and maintenance dates and records for all equipment in your business
Quality House Watch - Compliance Module
SDS/Hazardous Substances Register (Electronic Safety Data Sheets)

Compliance Register (Regulations & Legislation/Codes of Practice/Standards/Licences)
HR & Training Management - Employees and Training Module
Employee information and training details
Training Matrix, detailing skills and competencies, upcoming training, expiry dates and more