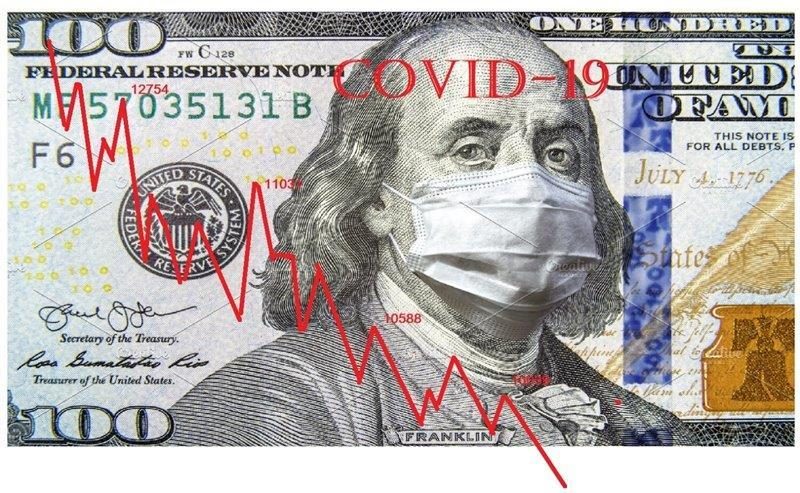 This article first appeared in Business Acumen Magazine on the 17th of March 2020. Available at:
https://businessacumen.biz/54-acumen-leader/4733-coronavirus-economics-the-financial-calamity-behind-covid-19
By Dan Hadley
AS AUSTRALIANS ARGUE AND FIGHT in shopping aisles over packets of toilet paper, other nations have focused on more serious matters in regard to COVID-19.
Loosely referred to as 'coronavirus', the pandemic has spread to almost every country according to the World Health Organization (WHO).
Originating in Wuhan, China, it seems the virus will inevitably reach every corner of the world.
At the time of publishing this article, the coronavirus has officially infected nearly 170, 000 people globally and killed over 6, 500.
In the face of government controls, lockdowns, isolate on and blockades, markets and economies have met a calamity that may have a fallout greater than the 2009 Global Financial Crisis.

Markets falling…
Shares across all markets have taken a dive in the wake of WHO announcements and ever-growing statistical reports of coronavirus spreading. The Dow Jones has taken a 9.5 percent hit over two months since January 2020 with the Nikkei down 10.6 precedent and the FTSE down 14.6 percent (Bloomberg).
Market confidence continues to fall, and investors are clearly very conservative in the face of mass reductions in

Bloomberg indicated last week that the coronavirus may cost the global economy up to $2.7 trillion USD equivalent economic activity and spending.
Market growth down significantly…
Projections for 2020 market growth are already well down compared with 2019 figures. Expected OECD economic growth forecast sees a reduction from nearly 3 percent in 2019 down to 2.4 percent with some countries seeing a greater projected reduction, particularly Japan, Italy, Germany and the UK.
These countries are looking at a reduction of 50 percent or more in projected year on year growth and this has the capacity to stall those economies.
Not forgetting the lives that have been lost and those deaths that are sure to come, the coronavirus has the potential to be the biggest economic meteor to hit Earth in recorded economic history.
Global travel down, airlines struggling and tourism dropping …
The international and domestic travel sector comes with immense overheads.

Reductions in travel, bought on by the fear factor and travel restrictions, means overall demand is down and tourism has ground to a halt in many tourist hot spots throughout the world.
This is also heightened by the number of travel-bans now in effect globally with more likely to follow.
Not just limited to China or Asia, this reduction is having an effect on both large companies as well as millions of small business providers within this sector.
Many nations rely heavily on tourism to maintain adequate income and GDP and this reduction may equate to billions of dollars for markets.
Factories in China grind to a halt, clearing pollution …
One of the few good things to come out of the coronavirus in China is the massive reduction in pollution.
With factories closed pending coronavirus containment and minimal numbers of cars on streets, the skies have begun to clear.
Unfortunately, this shutdown of production is having a major impact on the Chinese economy as well as the global market.
Importers of Chinese made goods are struggling to source adequate stock in many instances and, as millions go into containment, China itself is not importing foreign made goods. This will have an extensive flow-on effect to other economies and sectors.
The strain on health systems globally …
Hospitals in Wuhan are well known to be full and bursting at the seams. Health professionals work round the clock to help those infected.
Similar scenes are arising in Italy as well as other places and even those countries with minimal infection numbers have begun to mobilize health teams and resources.
This is costly and national budgets will be thrown out of whack, even in the face of the impact we have seen today.
Australia's response …
Prime Minister Scott Morrison recently addressed the public at the AFR Summit in Sydney with respect to the coronavirus issue.
With a stimulus and support package announced so far and expected to be worth in excess of A$17.6 billion, the Australian Government is proceeding seriously.
There is already talk less than a week after that announcement that the Federal Government is prepared to spend more on resolving this crisis than it did during the GFC: potentially more than A$50 billion.
"When the economy bounces back, our budget will also bounce back. The stronger the recovery, the stronger the economy, the stronger the budget, " Mr Morrison said.
The Prime Minister went further to indicate the importance the Federal Government was placing on the safety and wealthfare of Australians:
"We now have one goal in 2020: to protect the health, wellbeing and livelihoods of Australians through this global crisis, and to ensure that when the recovery comes, and it will, we are well-positioned to bounce back strongly on the other side.
"It is important to remember the problem is only a temporal one, not structural, and learn the lessons of the global financial crisis", Mr Morrison said.
WHO to listen to about the virus…?
The Director-General of the World Health Organization (WHO) released a statement on March 9 that matched sensible strategy with hope against fear.
In the media announcement, Dr Tedros Adhanom Ghebreyesus announced:
"We are not at the mercy of this virus.
"All countries must aim to stop transmission and prevent the spread of COVID-19, whether they face no cases, sporadic cases, clusters or community transmission.
"Let hope be the antidote to fear.
"Let solidarity be the antidote to blame. Let our shared humanity be the antidote to our shared threat."
The economic prognosis…
COVID-19 has the potential to cause greater financial damage than the 2009 Global Financial Crisis (GFC).
Markets may take such a tumble that we will see massive changes in the economic landscape.
Those companies reliant upon consumer spending, confidence, retail spending or tourism may struggle to survive if trends of the coronavirus continue as they have.
Not forgetting the lives that have been lost and those deaths that are sure to come, the coronavirus has the potential to be the biggest economic meteor to hit Earth in recorded economic history.
For now, communities must stick together, act with caution but work in earnest to maintain our economies safely while those on the front line fight the virus.

Dan Hadley is a British/Australian economist and business management consultant for JLB based in Adelaide, South Australia.
Article from: https://businessacumen.biz/