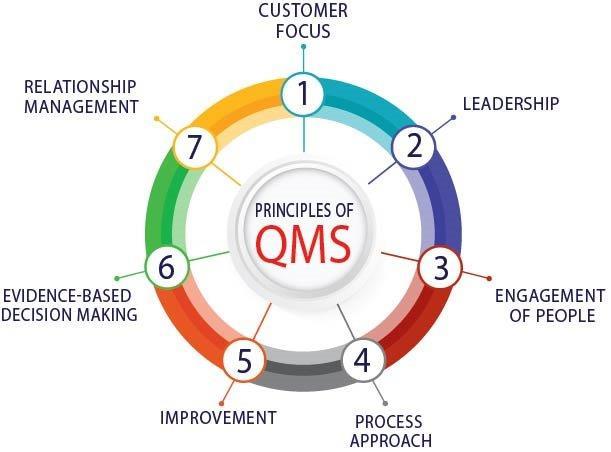 Quality management principles are composed of 7 basics topics which stem from the guidelines of ISO 9001. Each of them is a cornerstone in a quality management system.

Adopting a QMS is a decision that can drive your business to the best practices, compliance and to increase profits by levelling up the efficiency of processes and procedures.
Measurable and intangible benefits are often realised once the quality system has had a chance to mature, with an exponential return on investment in relation to time invested in implementing and maintaining it. Before designing a QMS, you should have a clear understanding of the principles of quality management and how to tailor a plan of action towards its goals. Here is the list of the 7 Principles of QMS and what they cover:
1. Customer Focus
To be customer-driven means you meet and exceed your client's requirements and expectations first. A paramount topic when improving your business as a whole, customer focus always is the number one item to have in mind when designing a management system to be introduced in your organisation.
2. Leadership
Unity of purpose, direction and people engagement enables your business to align strategies, policies, processes and resources to achieve your quality objectives. Key team members with a well-thought leadership role have a direct effect on systems adoption, overall compliance and employees commitment to quality.
3. Engagement of people
Recognition, empowerment and enhancement of competence facilitate staff engagement while the whole team drives efforts to achieve a quality management system's objectives. To involve all people at every level of an organisation and to hear employees' voice increases the levels of success of a management system. Take some time to prepare people before moving your organisation towards a QMS, and you might ensure improvements in effectiveness and efficiency.
4. Process approach
A quality management system consists of interrelated processes set in motion tightly. To understand how processes interconnect and perform while driven by the system enables an organisation to optimise its overall performance towards quality. Processes are the building blocks that bring a QMS together, and as so it worths to take some time design them to their best. Also, it's essential to review and adjust all correlated procedures regularly.
5. Improvement
Constant improvement is the driving force behind quality. There are always things to fix and to do best, which is the ultimate purpose of implementing a QMS. An improvement-focused system raises your levels of performance, as also facilitates the course of action when to react to changes in its internal and external conditions and create new opportunities organically.
6. Evidence-based decision-making
In every decision you make about quality and process implementation, you should to first thoroughly understand cause-and-effect relationships and assess risk for any potential unintended consequences changes or adoption of new procedures might have in your company. Decision-making can be a complicated process as it always involves a degree of uncertainty - you deal with multiple types and sources of information as well as their interpretation, which can be highly subjective. It's fundamental to always focus on facts, evidence and data analysis while choosing the right course of action when problem-solving or just improving on quality.
7. Relationship Management
Stakeholders and other interested parties highly influence the performance of an organisation. Sustained success is more likely to be achieved when a QMS manages relationships with all of its interested parties to optimise their impact on its performance. When dealing with supplier chains and partner networks is critical to have in place a relationship management system that enhances clear communication and performance tracking procedures. Relationship management is the last step that brings every previous cornerstone together, and it's especially crucial if you want to achieve a highly effective Quality Management System.

Looking for help to implement a QMS? If you are looking for assistance with a quality management system development, get in touch with JLB today to discuss your requirements.